POET MECHANIC

---
1. An open-ended, ongoing worlding project that began with playful explorations of the potent poetics of the mechanical – in particular, the delicate but persistent rotational mechanics of the vinyl player.

2. A prosthetic totem grown on the vinyl disk, the Poet Mechanic transforms the vinyl player into an almost living, ritualistic sound sculpture. As an instrument, the Poet Mechanic is an unplugged DJ, an analogue loop station, a

3. Within an ever-growing series of transformations, the culturally-ubiquitous medium of the vinyl player takes on a new primitivism – addressing relations between the human and non-human, the mechanical and the poetic.

4. The Poet Mechanic is now in the early stages of becoming a recognised being in the world. The Poet Mechanic is no longer simply an object. The Poet Mechanic is being given real agency in the world; an increasingly assured icon, hero, antihero. The Poet Mechanic is both a symbol and a legally responsible agent. The Poet Mechanic is.
Scroll down for Video, Images, and Projects
VIDEO

P O E T M E C H A N I C XIX : SUN KING POET
| POET, GRAMOPHONE | 07/2019 | BERGERAC |
P O E T M E C H A N I C XVIII : KODAK POET
NEW CONCEPT POET [1] | FOR COLIN ROCHE | POET, FILM, PURE BLACK PHOTO FILM, 33 PURE WHITE PHOTOGRAPHS | 06/2019 | SAINT ETIENNE |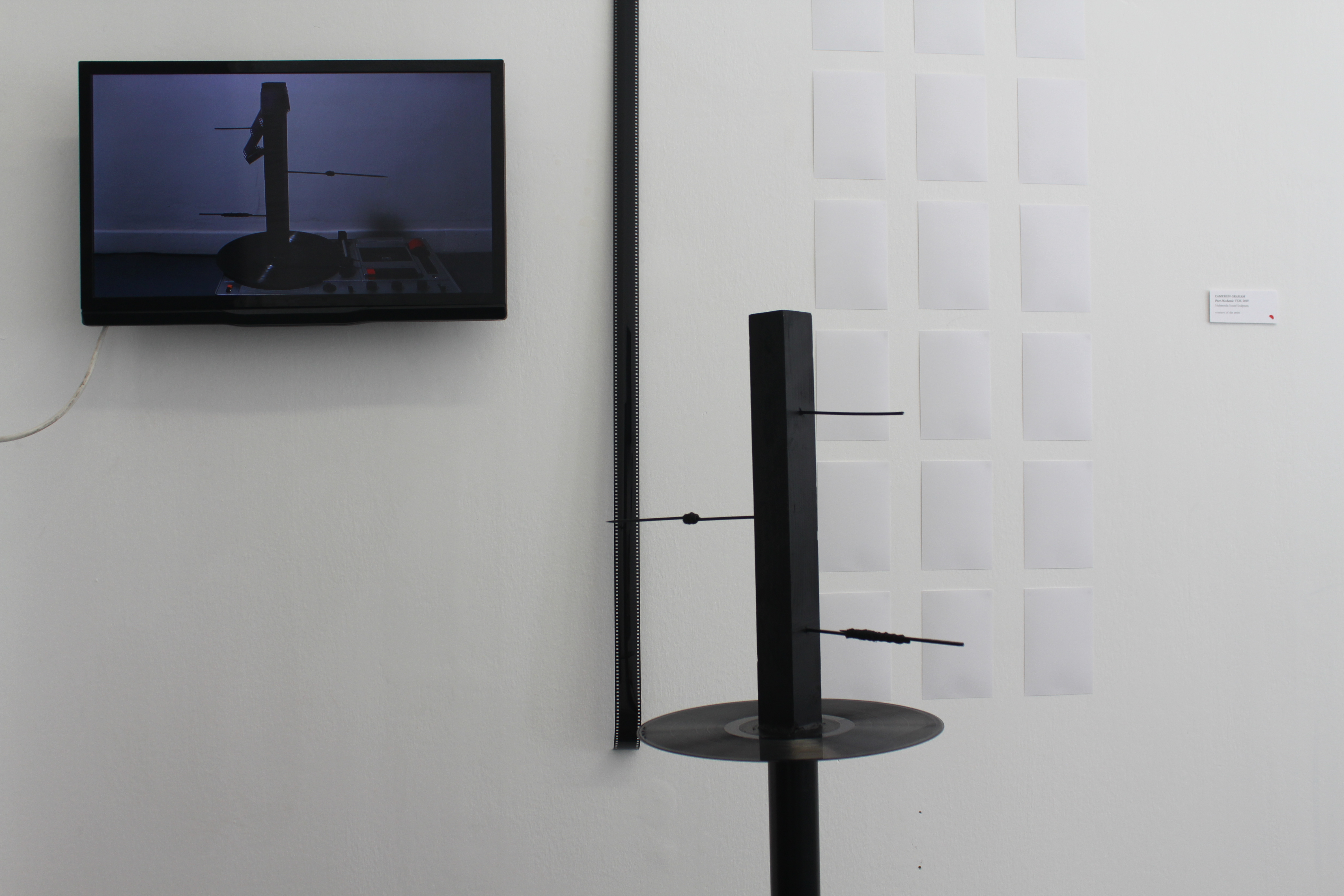 P O E T M E C H A N I C XVI+XVII : RICHARD ANTHONY
| NEW CONCEPT POET [2] | POET, GoPRO CAMERA | 06/2019 | SAINT ETIENNE I
P O E T M E C H A N I C S VI - XV
PART OF "CONTACT RESULTS IN CONTAGION " EXHIBITION | MOSCOW | 03/2019
P O E T M E C H A N I C - V
SOLO SOPRANO & COMPOSER | TWO LAPTOPS | PREPARED RECORD PLAYER | SOUTHAMPTON. 02/2019 |
FOR JULIET FRASER
_______________________
P O E T M E C H A N I C - IV
SOLO RECORD PLAYER | CAMERA + POET OPERATOR | SELSEY NOV. 2018 | ' BLEAK POET ' : FOR JOHN & PETER
<
SCORE
>
P O E T M E C H A N I C - III
TROMBONIST | PREPARED RECORD PLAYER | SWITZERLAND OCT. 2018 |
MADE FOR TROMBONIST JON ROSKILY |
P O E T M E C H A N I C - I & II
I: PREPARED RECORD PLAYER | KENT, U.K 2017 |
I & II : PREPARED RECORD PLAYERS | OPEN ENSEMBLE | ORANGE TREE GALLERY SEILLANS FRANCE AUG. 2018 |